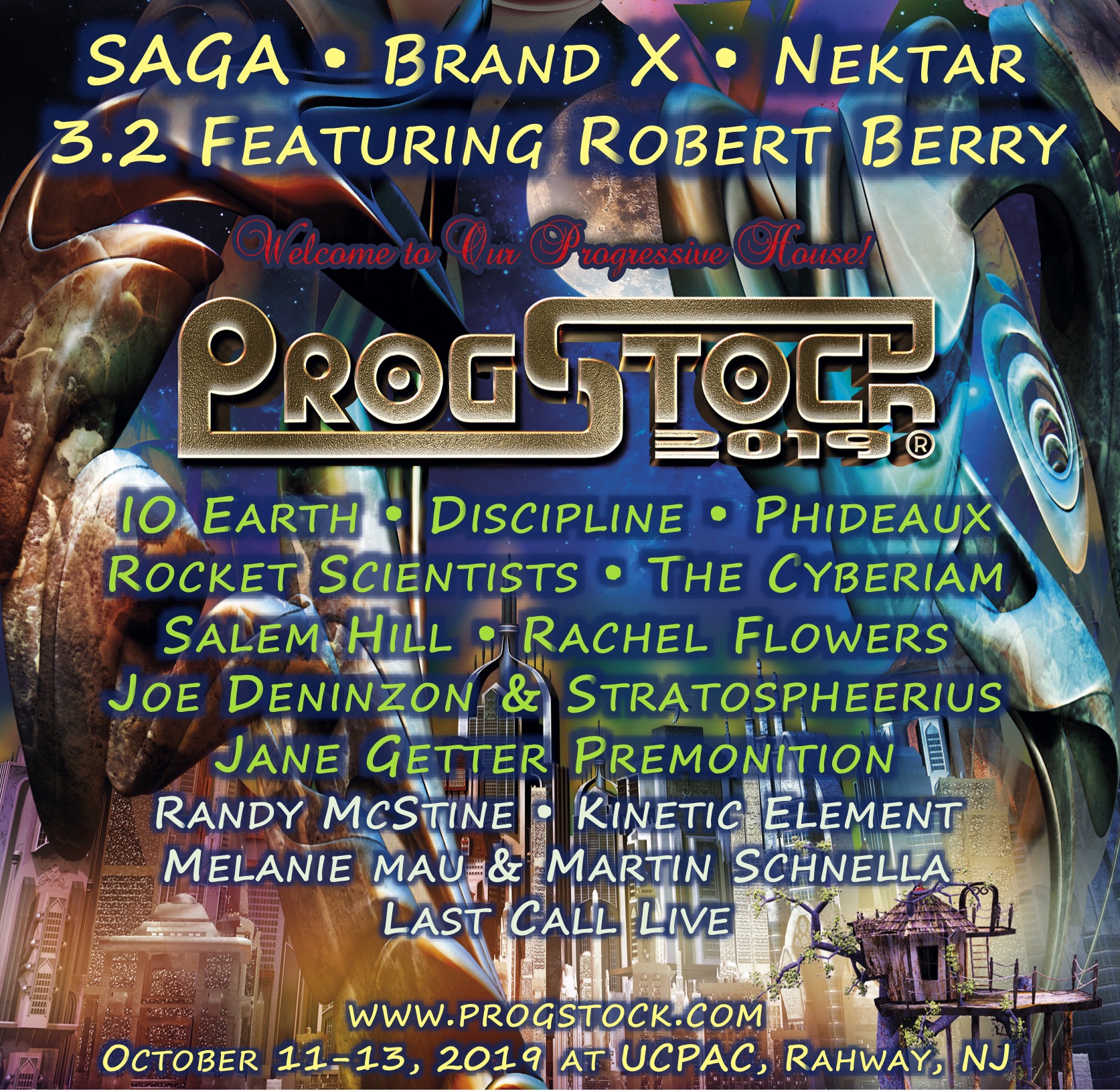 ProgStock will return in 2019, and will once again be held on Columbus Day Weekend (October 11-13, 2019) at the beautiful Union County Performing Arts Center (UCPAC) in Rahway, New Jersey. The ProgStock Team has taken the time to "take stock" (pardon the pun) and reflect on your feedback, and we are excited to say that we plan on bringing you the best ProgStock ever in 2019!
In case you haven't heard yet, we've announced our complete band lineup for the festival:
Sunday Headliner: SAGA
Saturday Headliner: Brand X
Friday Headliner: 3.2 featuring Robert Berry
NEKTAR
Rocket Scientists
Phideaux
Jane Getter Premonition
Salem Hill
IO EARTH
Discipline.
The Cyberiam
Joe Deninzon & Stratospheerius
Rachel Flowers Music
Friday Late-Night Event – Progressive Coffeehouse featuring Melanie Mau & Martin Schnella and Randy McStine at The "World Famous" Waiting Room Restaurant
Saturday Late-Night Event – Last Call Live on the main stage at UCPAC
Sunday Late-Night Event – Kinetic Element at The Waiting Room Restaurant
Also, back by popular demand, is our resident artist Paul Whitehead!
Summary of ticket options and dates (details on Tickets & Donations page)
Tuesday, April 30, 2019 @ 12:00pm (noon) US Eastern time
5-Year Patron Pass: $2,500 USD
Tuesday, May 14, 2019 @ 12:00pm (noon) US Eastern time
Prog-Ducer 3-Day Pass: $345 USD (Orchestra, Loge, and front row of Mezzanine)
Regular 3-Day Pass: $195 USD (Mezzanine section except front row)
Tuesday, June 11, 2019 @ 12:00pm (noon) US Eastern time
Regular 3-Day Pass: $195 USD for all remaining available seats
Tuesday, September 10, 2019 @ 12:00pm (noon) US Eastern time
Single-Day Passes: pricing to be announced in June
Sponsorships are available:
http://www.progstock.com/2019/contact/sponsorships/
Check out and support our 2019 Sponsors here:
http://www.progstock.com/2019/artists-schedule/2019-sponsors/