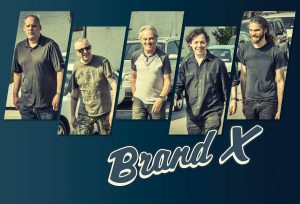 We are thrilled to announce that the Saturday night headliner at ProgStock 2019 will be BRAND X! With founders John Goodsall (Gtr) & Percy Jones (Bass) still at the helm, they've reached some new peaks with Keyboardist Chris Clark, Percussionist Scott Weinberger, and Drummer Kenny Grohowski each bringing their own unique artistry to make Brand X such a unique live act.
BRAND X finished off 2018 with a bang, touring from the Mid-West to the North-East (USA), releasing a new live DVD edited and mixed by Stephen W. Tayler (Real World Studios), and releasing a new live album as well, culled from their headlining performance on the opening night of RoSFest 2018.
Brand X is proud to have been selected to play on "CRUISE TO THE EDGE" with YES, February 4-9, 2019, where they did three shows, and now ProgStock, October 11-13, 2019.
Founding Member/Guitarist John Goodsall: "Every tour we add some new songs and change some things around for a fresh new show. Some of these songs we haven't played in ages – and some never before at all – and now we're starting to work on writing some new material as well for a forthcoming album."

"The band are playing exceptionally well live, so we've recorded a new live DVD and a new live album to document it." says Manager Norman Bedford."They're breathing new life into some timeless music in a way I've rarely seen – every night on stage they do something differently, and it's all very exciting to watch."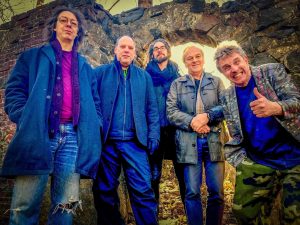 The original seeds were sown many years ago in London as players in a studio band for many of Brian Eno'sinfamous solo albums.  Drummer Phil Collins and Bassist Percy Jones got to know each other through those sessions.  Later Jones and JohnGoodsall officially formed Brand X. Bill Bruford even played a few shows in Brand X — but was complicated by commitments with King Crimson and his own band Bruford, so it wasn't long before Collins was locked in behind the Brand X kit.
Brand X would sign with Genesis's management company and they were off and running.  They played several festival dates along with Genesis, like the infamous Knebworth Fest in England.  With their first three albums "Unorthodox Behaviour", "Moroccan Roll" and "Livestock", many critics hailed Brand X as a new path for the future.  In a 1978 poll in England's NME, Brand X were ranked first, above The Sex Pistols, as new band of the year. In a sense they truly were at the forefront of the Jam-Band/Fusion sound.  Today the band carries with it more Funk and Rock, but the improvised Jazz sections are still pure heaven.
Phil Collins balanced playing simultaneously in Genesis and Brand X for the early years – an act he handled well – and some claim some of Collins best work appears on those Brand X albums. Collins once explained his love for the energy and freedom created by Brand X thusly: "Genesis was like my wife, but Brand X was like this hot mistress — with big bazongas!"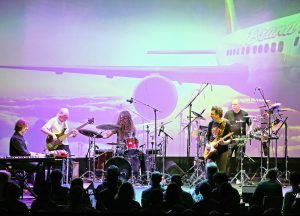 Band Lineup:
John Goodsall – guitar
Percy Jones – bass
Chris Clark – keyboards
Scott Weinberger – percussion
Kenny Grohowski – drums
Facebook: https://www.facebook.com/OfficialBrandX/
Twitter: https://twitter.com/OfficialBrandX
Instagram: https://www.instagram.com/brand_x_official_/