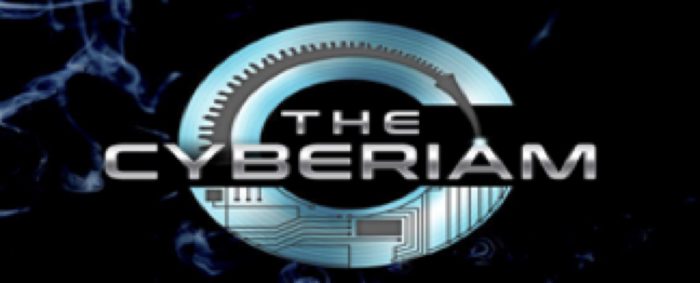 Comprised of some of Chicago's most accomplished musicians, The Cyberiam have come together to create their own unique brand of hard/heavy progressive rock. The Aaron Clift Experiment has described their music as the "heavy, atmospheric prog of bands like Porcupine Tree and Tool with a good melodic and pop sensibility". Their self-titled debut album and stunning live shows have them rapidly building a rabid following.
The Cyberiam began in 2016, when keyboardist Frank Lucas was looking to form a progressive rock band. At a show one night, he struck up a conversation with well-known Chicago performer Keith Semple after noticing his Dream Theater tattoo. Semple had crossed paths with Lateralus drummer Tommy Murray on numerous occasions. The trio had already begun writing what would become the band's first album when Murray invited Full Moon Fire band mate, Brian Kovacs, to lend his beefy bass skills. With the band fully formed, writing and recording was completed. The Cyberiam's self-titled debut was released in February 2018. That year was filled with producing videos, performing live shows, including a set at Progtoberfest IV, and receiving a host of accolades.
Debut Prog Metal Album of the Year – Sonic Perspectives
Best Debut Album – Progrock.com
Best Chicago Prog – Progrock.com
Best Dr. Who Plot – Progrock.com
#6 Heavy Prog & Progressive Metal Album – Dutch Progressive Rock Page
"This is an exciting young band that gives me hope for a new generation of progressive rock. I am thinking very optimistically about prog rock's future." ~ ProgRock.com
"This is such a cool band, full of great concepts and brimming with brilliant ideas that all become revealed when listening to the colossal amount [of] musical output integrated into this ten track album" ~ Prog Planet
"Whether you are a fan of Tool and Opeth or like the more classic tones of Dream Theater or Symphony X, not to mention the alternative deeper feel of Porcupine Tree, this album has something for every progressive rock fan out there today." ~ NEH Records
"Ranging from emotional to purely technical – and everything in between – and featuring a deep variety of styles, feelings, time signatures and sentiments, this is undoubtedly a promising band that will surely achieve international recognition and deserves your attention." ~ Sonic Perspectives
Following the success of 2018, The Cyberiam are focusing less on their live shows and heading back into the studio in 2019. They have just finished recording "The Butterfly Effect", an epic 21 minute track to be released as an EP May 3, 2019. Next up, they will be editing footage from their full production, live performance at The Copley Theater for DVD release in September/October. The band will be looking at options for a vinyl release of their debut album later in the year, as well as completing their next album for release in 2020.
The Cyberiam's only scheduled performance this year will be ProgStock 2019, an annual progressive rock festival held in Rahway, NJ, on Columbus Day Weekend. They plan to get back on stage for a few shows to close out 2019 and will be coming to a venue or festival near you in 2020.

Band Lineup
Brian Kovacs (Bass Guitar, Vocals) is a multi-instrumentalist from the Chicago area. His voice has been heard all around the Chicago area for more than 2 decades as a radio DJ, voiceover artist, DJ/karaoke host, festival MC, podcaster, and member of Libido Funk Circus. He can also be found around town performing as a solo artist or with The Awecoustics.
Frank Lucas (Keyboards) is a Chicago-based classically trained pianist, composer, and educator. He has been studying piano, synthesis and theory with Dream Theater's Jordan Rudess for 25 years. Frank has performed and recorded with members of well-known acts including Pat Metheny Group, Dixie Dregs, UFO, Journey, Destiny's Child, and War, as well as solo artists Brandi, Jennifer Lopez, and Dee Snider.
Tommy Murray (Drums) is a native Chicagoan who started hitting the skins when he was just 3 years old and has never stopped. He has performed in countless bands, notably Lateralus and Aziola Cry, on Chicago stages for decades. After a failed attempt to join the Blue Man Group (because he was too tall), he turned to acting and landed roles on Chicago PD, Mind Games, and Chicago Fire.
Keith Semple (Vocals, Guitar) is easily the most well-known member of the band, performing professionally since the age of 16. The native Irishman has appeared on no less than three talent shows – winning UK's Popstars: The Rivals in 2002 and appearing on American Idol in 2006 and The Voice in 2012. He has toured the world – playing in prestigious venues like London's Royal Albert Hall and O2 Arena and opening for Bon Jovi and Kid Rock.
Website: www.thecyberiam.com
Facebook: http://www.facebook.com/thecyberiam
Instagram: instagram.com/thecyberiam
Twitter: twitter.com/thecyberiam