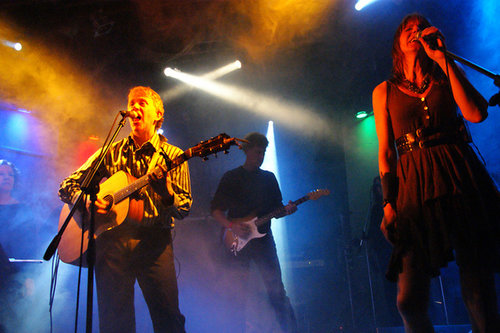 Phideaux Xavier is a progressive rock musician whose unique musical style gained the attention of the progressive rock community in the US and Europe upon the 2007 release of his Doomsday Afternoon album, the second installment of a trilogy that began in 2006 with The Great Leap. Phideaux is now back with a new album and back on stage with his full band.
This group of ten musicians is comprised of many childhood friends and comrades who have played on his more recent albums. Together, the band tackles a kaleidoscope of haunting vocals, multiple keyboards and upbeat, intricate, rock music.
The new double album, Infernal, is the final and eagerly awaited chapter in Phideaux's trilogy, and a fitting finale to his carefully crafted "eco terror tale".
Phideaux and his band have played several festivals since the release of Doomsday, including RoSfest (US), Summer's End (UK), Crescendo (France), Terra Incognita (Canada), and 3RP (US). Other recent album releases have included Number Sevenand Snowtorch.
While widely considered progressive rock, Phideaux's music is difficult to categorize. It has been called cryptic, mysterious and frightening, as well as playful, melodic, and mischievous. Whether it's progressive, art or psychedelic rock, Phideaux consistently pushes musical boundaries and defies genre.
Join Phideaux and his cohorts as they celebrate the cinematic sounds of the Doomsday Afternoon trilogy live in 2019.
Band Lineup:
Ariel Farber – Vocals, Violin
Valerie Gracious – Lead Vocals, Piano
"Bloody" Rich Hutchins – Drums
Mathew Kennedy – Bass Guitar
Gabriel Moffat – Electric Guitar
Molly Ruttan – Vocals, Percussion
Linda Ruttan-Moldawsky – Vocals
Mark Sherkus – Keyboards
Johnny Unicorn – Vocals, Keyboards, Saxophone
Phideaux Xavier – Lead Vocals, Piano, Acoustic Guitar
Website: https://bloodfish.com
Facebook: https://www.facebook.com/PhideauxPage/
Twitter: https://twitter.com/phideaux_xavier