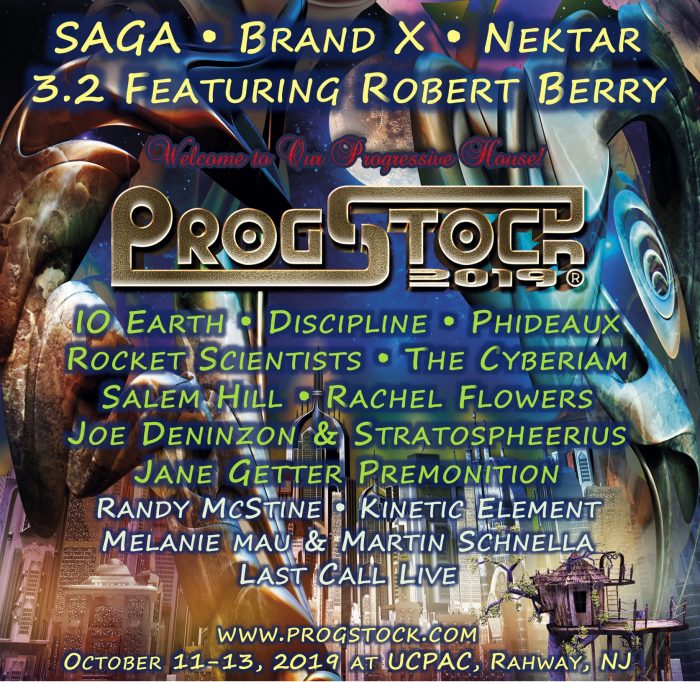 The moment many of you have been waiting for…
Here is our schedule by day for ProgStock 2019!
Friday, October 11:
3.2 featuring Robert Berry
Salem Hill
Phideaux
Special set by Rachel Flowers and Chris Clark of Brand X
Late-night: Progressive Coffeehouse at The Waiting Room Restaurant featuring Melanie Mau and Martin Schnella
Saturday, October 12:
Brand X
IO Earth
Discipline
Rocket Scientists
Jane Getter Premonition
Special set by Rachel Flowers and Robert Berry
Late-night: Randy McStine and Last Call Live on the Mainstage at UCPAC
Sunday, October 13:
SAGA
Nektar
Joe Deninzon & Stratospheerius
The Cyberiam
Special set by Rachel Flowers and Michael Sadler of SAGA
Late-Night: Kinetic Element at The Waiting Room Restaurant
---
Single Day Passes available at ProgStock Box Office on Tuesday, July 2 at 12:00pm (noon) Eastern Time!
Due to popular demand, we are making single-day passes available two full months earlier than we planned!
On Tuesday, July 2, selected seats in the UCPAC theater will become available for single-day pass purchases. The remaining seats will still be available for purchase as 3-day passes.
The price of a ProgStock 2019 Regular 3-Day Pass is $195 USD.
Pricing for Single-day Passes:
Friday: $75 USD
Saturday: $105 USD
Sunday: $115 USD