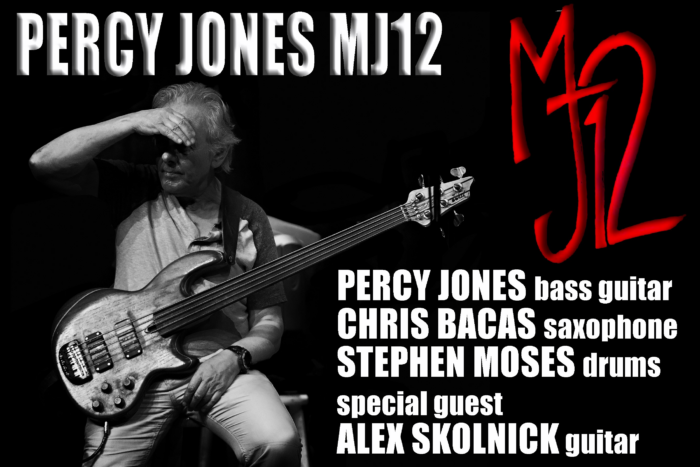 MJ12 is Percy Jones' solo project which started with a collaboration with NYC based drummer Stephen Moses. Their sound combines prog-fusion-rock, free jazz and sly humor in precise romps, crushing grooves, drone-based improvisations. In Percy's words: "We took the name from Majestik 12, which was supposedly a group of 12 scientists and engineers assembled in the late 40's to investigate UFO's. There is an ongoing debate as to whether this group actually existed or not. Stephen Moses and I had been doing gigs for a while where we would invite guests to sit in. We did all improv, so this was actually M&J +1 or 2. After a while we started using David Phelps and Chris Bacas on a regular basis if they were available. At this point we started writing stuff, but keeping a lot of the improv thing going to keep it spontaneous. The end result was bits and pieces of ideas coming from everybody that we're all tied together to try and make a coherent tune, but with lots of blowing inside."
The band is coming back to the live scene after a 2-year hiatus due to the lockdown and COVID-19, and future shows include ProgStock Festival in Rahway, NJ on October 2; and in Brooklyn, NYC at ShapeShifter Lab on October 15, 2021.
PERCY JONES (bass guitar)
Percy Jones grew up near Llandrindod Wells, Wales. He studied electronic engineering at the University of Liverpool before joining Liverpool Scene in 1967 He was a member of jazz fusion band Brand X from 1974 to 1980, and a reformed version which lasted from 1992 to 1997. He was in NYC based band Tunnels from 1990 until 2005. Still residing in New York, he is currently a member of MJ12. Jones is best known for his unique fretless bass sound. Jones was also briefly a member of the jazz fusion group Soft Machine, and has contributed to recordings by David Sylvian, Brian Eno, Steve Hackett, Roy Harper, Paranoise, Suzanne Vega, Richard Barbieri, Nova and Fovea Hex, amongst others.
STEPHEN MOSES (drums)
After several years playing as part of "the loft jazz scene" in NYC with the likes of James Chance, John Zorn, Phillip Johnston, Eugene Chadborne, Ken Simon, Dave Hofstra (and many others) Stephen started getting busier with more rock and jazz/rock in the CBGB's scene with Giant Metal Insects and Quality Trio with Jim Matus & Percy Jones. Alice Donut formed after that and took Stephen on the road and the studio for several years and a dozen albums followed by a few tours with Rasputina. Then a few years ago Stephen rejoined Percy to do what we do today.
CHRIS BACAS (saxophone)
Chris began his career at age fifteen as a sideman with a club band in York, PA, and after attending North Texas State, he began his jazz performance career in earnest. Beginning in 1983, Chris played in the Glen Miller Band, The Tommy Dorsey Band, the Artie Shaw Band, and Buddy Rich's legendary Big Band until Rich's passing in 1987. Over the past twenty years, Chris has appeared at festivals all over the world, including the Nice, North Sea, Cork, Santiago, Montreal, Moers Texaco, Annapolis, JVC New York, and Central PA Jazz Festivals. He has performed in Copenhagen at the Tivoli Gardens; in Los Angeles at The Hollywood Bowl and LA's Comedy Store; in New York's Blue Note and Birdland; at Chicago's Jazz Showcase; and in Washington D.C. at Blues Alley and One Step Down.
special guest ALEX SKOLNICK (guitar)
Alex Skolnick is a true guitar hero. At sixteen years old, he joined a group of twenty-somethings who'd formed a thrash metal band Testament, recording critically acclaimed albums and countless tours around the globe. A televised performance of the Miles Davis Electric Band in the late '90s led guitarist Alex Skolnick to New York City, where he immersed himself in the jazz world. Alex Skolnick Trio was formed while Alex was earning his BfA in jazz from New School University in Manhattan, and has been lauded by critics, fans and musical heroes alike ranging from DownBeat to Jazziz to the Village Voice to Kirk Hammet of Metallica. Outside ofd the heavy metal, Alex Skolnick currently records and tours with his Alex Skolnick Trio featuring Matt Zebroski on drums, and Nathan Peck on bass, known for its inventive jazz take on hard rock and heavy metal "standards" besides displaying Alex' talent as a composer; as well with improv-avant-jam-prog-fusion supergroup PAKT featuring Percy Jones, Kenny Grohowski and Tim Motzer.
Facebook: https://www.facebook.com/MosesJonesWorking/
Facebook (Percy Jones): https://www.facebook.com/Percy-Jones-16433378938/
Bandcamp: https://percyjonesmj12.bandcamp.com/album/percy-jones-mj12