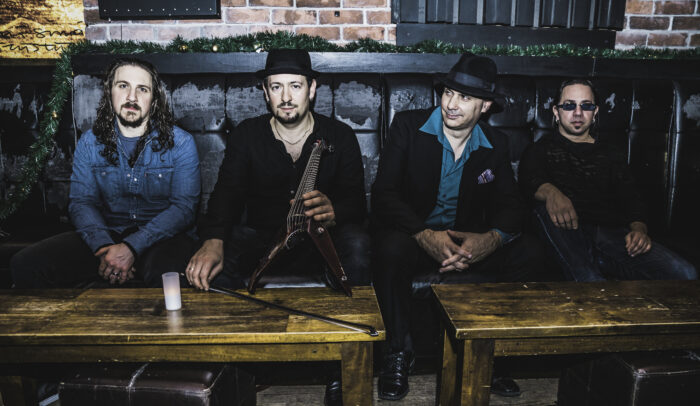 Joe Deninzon & Stratospheerius is led by founding member, electric violinist & vocalist Joe Deninzon. Called the "Jimi Hendrix of the electric violin." Critics have called the group "Pure Magic."(Act/One Magazine).
Stratospheerius has showcased their "Frenzied mélange of progressive rock, jazz fusion and funkabilly" throughout the world at colleges, festivals, and clubs. They have opened for artists including John5, Alex Skolnick, Tony Levin, Gary Hoey, Martin Barre, Tim Reynolds, Mickey Hart, Mike Stern, and John Scofield. The group has played festivals including Progstock, Progtoberfest, The Detroit International Jazz Festival, Great South Bay Festival, Chattanooga RiverFest, and more.
The band was a winner of the John Lennon International Songwriting Competition the Musicians Atlas Independent Music Awards. They have been featured in Progression, Relix, Downbeat, Music Connection…
The group's latest album, GUILTY OF INNOCENCE (on Melodic Revolution Records) climbed to #4 on the National Jamband/Relix Radio charts. Critics are praising their latest singles, "Impostor," "Frame by Frame," "Storm Surge feat. Michael Sadler," and "Cognitive Dissonance feat. Randy McStine," released in 2020 and 2021. Coming out in 2021 is a live album/DVD and a studio album in 2022 on Melodic Revolution Records.
Band Lineup
Joe Deninzon – lead vocals/electric violin
Jason Gianni – drums/vocals
Michelangelo Quirinale – guitar/vocals
Paul Ranieri – bass/vocals
Special Guest
Rachel Flowers – piano/flute
Links
Website: www.stratosband.com
Facebook: www.facebook.com/stratospheerius
Twitter: www.twitter.com/stratospheerius
Instagram: www.instagram.com/stratospheerius
YouTube: https://www.youtube.com/c/JoeDeninzonStratospheerius
Bandcamp: stratospheerius.bandcamp.com
Joe Deninzon: www.joedviolin.com