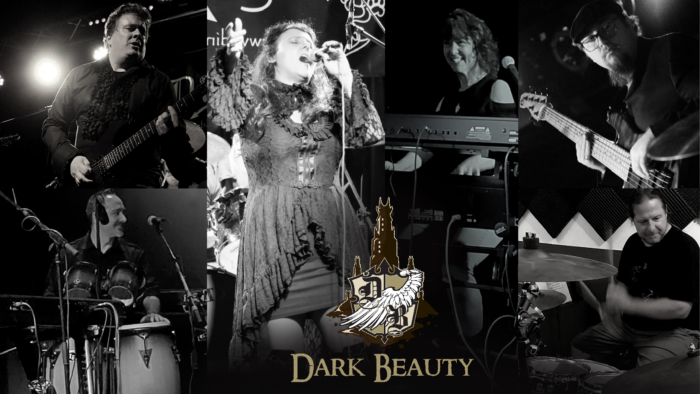 Dark Beauty is proud to return to ProgStock, the place where they had their first full live band performance in 2018. While the band fits comfortably within the progressive rock world, elements of pop, dance, opera and heavy classic rock are all part of the mix. The songs are complex and rich, with a focus on memorable melodies, story-based lyrics, lean orchestrated instrumental sections, and more expansive opportunities for the individual musicians to shine.
The band was formed to record a three-album cycle telling the tale of Liz's original character The Dark Angel, her fall from grace and hopeful redemption. The second album in the cycle, Between Sixes and Sevens, will be released on Halloween of 2021, and selections from it will be part of the band's set at ProgStock. Liz takes on the role of The Dark Angel while performing, and the character changes from meek to powerful as the story progresses. While she's passionate about the music, Liz says "it's really all about the story. I want to pull the audience into The Dark Angel's world."
Dark Beauty is excited to be literally sharing the stage their friends Potter's Daughter, as Dyanne Potter Voegtlin and Jan-Christian Vögtlin will be performing with Dark Beauty on keyboards and bass guitar. The lineup is rounded out by special guest Mark DeGregory on drums, and longtime collaborator Lou Tambone on percussion.
For more information please contact Bryan Zeigler at Info@DarkBeautyMusic.com, or Liz Tapia on Facebook at DarkBeautyMusic.
Band Members
Liz Tapia is a lyric mezzo-soprano, whose smooth, warm, versatile voice adds nuanced textures to the epic music she writes and performs. She draws influence from Anne Wilson, Linda Ronstadt and Inva Mula. Liz's background in acting, production and musical theater all affect the musical scope and cinematic feel of her work.
Bryan Zeigler is a founding member of Dark Beauty as lead guitarist and co-writer. He has been playing guitar for thirty years in mostly progressive, sometimes humorous, usually original bands. His guitar influences include David Gilmour, Ty Tabor and Steven Wilson, and he currently sings and plays guitar for prog-punk satirists Jaded Babies.
Links
Website: https://darkbeautymusic.com
Facebook: https://www.facebook.com/DarkBeautyMusic
Instagram: Instagram.com/DarkBeautyMusic
Spotify:https://spoti.fi/2TfcRSO
Twitter: https://twitter.com/DarkBeautyMusic
YouTube: https://www.youtube.com/LizTapiaDarkBeauty
ProgStock 2021 Band Lineup
Liz Tapia – Lead Vocals
Bryan Zeigler – Guitar and Vocals
Dyanne Potter Voegtlin – Keyboards and Vocals
Jan-Christian Vögtlin – Bass and Vocals
Mark DeGregory – Drums
Lou Tambone – Percussion and Vocals