ProgStock's Spacious New Venue
ProgStock's daily performances will take place in the Rivoli Theater of the Williams Center located at 15 Sylvan Street (aka 1 Williams Plaza), Rutherford, New Jersey 07070. After each performance, meet & greet sessions with the performers will take place within the Black Box space of the Center. The festival will also offer many other exciting activities and attractions within other spaces at the Center, as well as outside its front doors within Williams Plaza. And, beyond our doors is the vibrant borough of Rutherford which offers an amazing downtown for you to explore!
History of the Venue
The Rivoli Theater debuted in Rutherford in April 1922 with a capacity for 2,200 audience members. Built by architect Abram Preiskel and developer Harry Hecht above the Glen Waters pond, the building featured a marble facade, ornate proscenium, and a centerpiece chandelier, made of 62,000 Czechoslovakian crystals. The theater played host to silent films and was a popular stop in the vaudeville circuit. Acts such as Abbott and Costello and the Glenn Miller Orchestra performed under The Rivoli's signature chandelier, and silent movies starring Buster Keaton and Douglas Fairbanks, Jr., delighted audiences. The Theater continued operation with brief interruptions until January 1977, when a devastating fire destroyed nearly one-third of the building. The theater's future was in doubt until a group of philanthropists led by Fairleigh Dickinson, Peter and Sally Sammartino, Oscar Schwidetsky, Barry Dancy, and Herb Cutter, saved the theater and started the nonprofit Williams Center Project. The theater's name was changed to the William Carlos Williams Center for the Performing Arts, after the famed poet, doctor, and Rutherford native, and the newly renovated venue opened its doors in 1982.
Another setback struck the center in the aftermath of Superstorm Sandy. In October 2012, Bergen County, the owner of the building, decided to shutter the Newman Theater, the main live stage of the Williams Center with a 642-seat capacity, due to safety concerns.
Native Center Development, an energetic and local real estate developer, recently acquired the William Carlos Williams Center for the Performing Arts, the creative arts and cinema complex located in downtown Rutherford. After many years of under-utilization, the Borough of Rutherford decided to sell this property to Native Center with the mission of restoring it to its former glory and elevating it beyond anything the Borough has seen before. For a community that is shedding its old skin, yet treasures its past, this project is a monumental opportunity for measured growth for one of NJ's most charming municipalities. The cultural epicenter is scheduled to be fully realized in 2026, with incremental renovations being done monthly. As of early 2022, many of the prior safety concerns have been resolved, and monthly events have enthusiastically resumed without issue.
Getting From/To the Venue
So…how do you get to Rutherford, NJ? Google Maps (or the like) will quickly and easily show you the many travel options that exist, and if you're within a reasonable distance (or you just love to take long drives) you'll find major highways and simple directions to Rutherford. However, because it is a popular commuter area in New Jersey located near the heart of New York City, downtown Rutherford is a major stop on the Bergen Line of the NJ Transit train system. You can ride by train from Penn Station in Manhattan to Rutherford in about 25-30 minutes for less than $6! Once there, you are a very short walk from the Center (see the map above). Another alternative is NJ Transit bus service from the Port Authority Terminal in Manhattan to Rutherford…a 25-30 minute trip for less than $5! And, for those traveling from afar, you can fly into Newark Liberty International Airport, and take a NJ Transit train ride for about 30-40 minutes to downtown Rutherford for less than $16!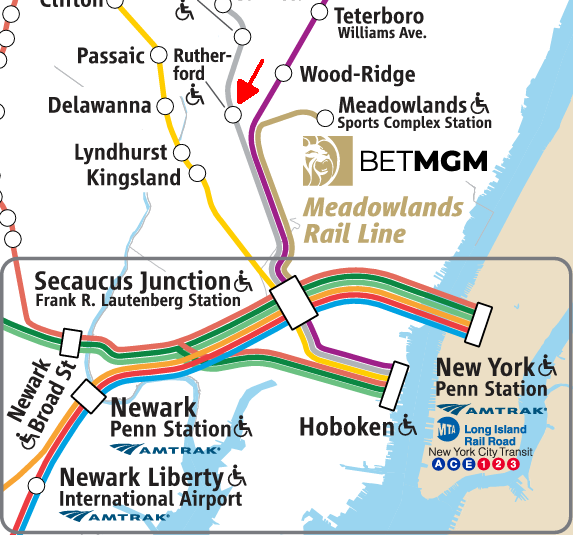 Of course, you can drive (or be driven) to Rutherford from Newark Airport (rental car, taxi, Lyft/Uber, etc.) very easily…about 20-25 minutes and you're there!
If you plan to drive to the theater each day, you can park downtown or in the Kip Garage (at 55 Kip Avenue, Rutherford, New Jersey 07070) a short walk from the Williams Center. However, the street parking closest to the Center, and the available spots in the Kip Garage, are both metered ($1/hour) and time-limited (2 hours in most cases). These costs and limits apply on weekdays and Saturdays prior to 6:00pm. After 6:00pm on those days, and all day on Sundays and holidays, metered parking is free and unlimited. Yes…that is quite a lot to consider! And, we understand that this is not an ideal situation.
We've spent a lot of time and effort working with the Borough of Rutherford and other local organizations trying to identify parking alternatives that are close to the Center, free of charge, and unlimited, throughout the entire festival. Finally, we can now present you with those options! First, once you drive just beyond the immediate downtown area, street parking is unmetered (completely free and unlimited). The map below shows where metered parking spots are, and where unmetered parking starts. As you can see, you can still park quite close to the Center for free as long as legal residental spaces are available! You can click on the map to make it larger.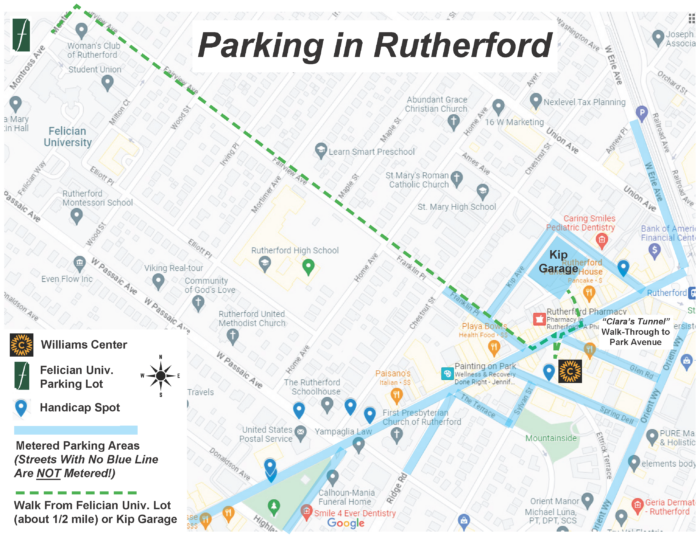 But, another amazing option has recently been provided to us by one of our newest sponsors, Felician University. In the upper-left corner of the map, you will see the Felician University Parking Lot on Montross Avenue. Felician University has agreed to allow our attendees to park in this lot throughout the entire festival, for free! This lot sits between Fairview Avenue and Hollister Avenue…but, it doesn't have it's own address! So, set your GPS for 217 Montross Avenue, Rutherford, NJ 07070, and you will be taken directly across the street from the lot. You can't miss it! The walk from there is about one-half mile long, roughly 15 minutes walk.
Otherwise, you can always carpool with friends…you will see plenty of familiar faces and make plenty of new friends at this festival! Some area hotels may provide shuttle services to get to/from downtown Rutherford. Taxi services will be easy to grab (our staff will help you, if needed). Uber/Lyft are available, too…after all, it's a commuter town!