Award winning multi-instrumentalist Dave Bainbridge joins forces with Lord of The Dance vocalist/instrumentalist Sally Minnear to bring a spellbinding set of music that will, in equal measure, have you jigging in (or out of!) your seat or bring a tear to your eye. A compelling mix of powerful and ethereal vocal songs (including the occasional emotive Gaelic ballad), instrumental tracks (jigs / reels / slow airs / evolving soundscapes), and virtuoso improvisation on keyboards, electric guitar, bouzouki and cowbell! 
Dave and Sally first toured together as a duo in July 2015. Such were the incredibly positive reactions to the tour that they have continued work together whenever their busy schedules allow, bringing their magic to audiences far and wide. Their first release together 'Live in the Studio' (2018 – dvd) received amazing reviews and audience reactions.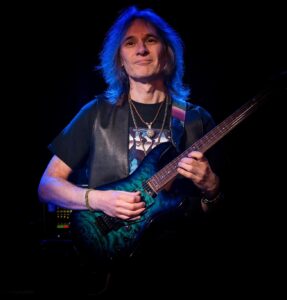 Dave Bainbridge
Piano, keyboard, electric & acoustic guitars, bouzouki, looping
Best known as co-founder of pioneering Celtic folk/rock/ progressive, ambient band IONA and more recently Lifesigns, Celestial Fire, DBA (with Geoff Downes of Yes), and Strawbs, Dave's multi-faceted career has led him into many musical genres and work with numerous artists including; Jack Bruce,Troy Donockley, Buddy Guy, Gloria Gaynor, Mae McKenna, Moya Brennan, 'Snake' Davis, Paul Jones, Phil Keaggy, Robert Fripp, Nick Beggs, Damian Wilson and many others. Dave gained several performance awards during his time at Leeds College of Music (including BBC Radio 2 Best Jazz Soloist Award). He has been in the top 4 for the past 3 years in Prog Magazine's Reader's Poll Best Guitarist category. As well as recording 13 albums with IONA, he has also released 4 solo albums, a Celestial Fire Live DVD/2CD and several collaborations with both Troy Donockley and David Fitzgerald.
"Bainbridge has always been known as a fantastic guitar player, with his trademark soaring and searing leads. However, he is an equally accomplished keyboard player….On Celestial Fire, he really shows off his ivory chops….The instrumental parts are some of the coolest I've heard in years." David Taylor – www.spiritualprog.com
"Dave Bainbridge is a a genius of immeasurable proportions…If you are unfamiliar with him it's time to make amends. Trust me." Nick Beggs (Steve Wilson, Steve Hackett etc)
'Bainbridge's guitar playing is superb; his electric solos conjure Eric Johnson and Allan Holdsworth.….Looking deeper, the music is genuinely touching, possessing a spiritual quality that speaks to the soul and inspires various states of positivity, from peaceful tranquility to breathless exhilaration.' www.progressiveworld.net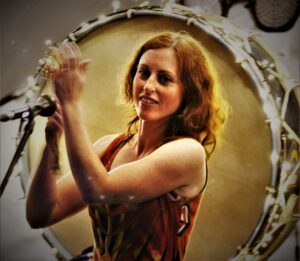 Sally Minnear
Vocals, vocal loops, acoustic guitar, drums, percussion, tin whistle, recorder, keyboard
Daughter of multi instrumentalist Kerry Minnear of the hugely respected and influential '70's progressive band Gentle Giant, Sally has been steeped in music throughout her life.
She had a minor hit with the song "For You" aged just 18, before forming the acoustic duo 'Creatures of Habit' as a vehicle for her own songs. After completing a music degree, during which time she played fiddle and sang in a popular traditional Irish band, Sally secured the featured vocalist role in Michael Flatley's hugely successful dance spectacular 'Lord of the Dance'. Sally toured the world with the production for several years, before leaving to start a family.
She has recorded with several artists, including Misty's Big Adventure, Dave Brons, John Holden & Pablo Ortiz. Sally is also lead vocalist, multi instrumentalist in Dave's band Celestial Fire, and sings backing vocals with iconic prog band Pendragon.