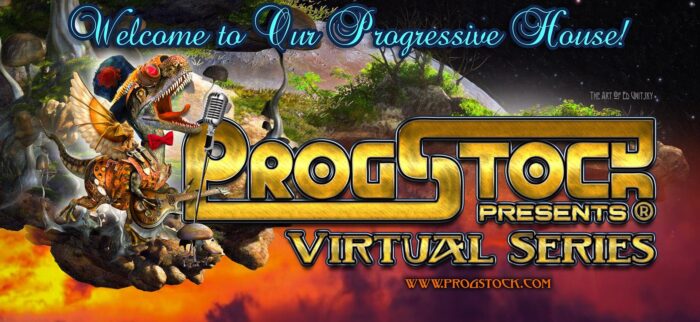 ProgStock Festival, the American Northeast's Only International Progressive Rock Festival, is proud to bring you the ProgStock Presents Virtual Series.
The pandemic has closed music venues and brought in-person live music performances to a screeching halt. We don't know how long we will have to wait before it will be truly safe to stage a festival, but we will be back! Meanwhile, we will be bringing music right to you with some great shows from artists performing live in their homes or home studios. The series will be presented every Saturday night, 5PM – 11PM US Eastern, starting on August 1, 2020.
Shows will be presented on StageIt. To participate, you must have a StageIt account. If you don't yet have an account, here's what to do:
Go to stageit.com (on your laptop or desktop, the site is not mobile-friendly for accounting, but works on mobile for viewing)
Click Sign Up (upper right corner)
Create a username and password
Click "Buy Notes" (10 notes = $1) – The StageIt system sells Notes in minimum intervals of $5 (50 Notes).
After choosing how many Notes you want to purchase, choose your payment type – it'll be credit card or PayPal (with PayPal, you do not need to have an account, you can use a credit/debit card as a guest).
Go to the direct ticket link for ProgStock Presents and purchase tickets to the shows you want to watch. Please note the shows are NOT on the StageIt website, yet, but it is a good idea to get your account set up and ready to go! Feel free to contact us, if you have any issues.
You will also be able to tip the artists before, during and after the shows with Notes, so consider loading up your account in advance, so you can have some fun with tipping while supporting your favorite artists.
Direct Ticket Link for ProgStock Presents (when the shows become available): https://www.stageit.com/ProgStock
As always, our sincere thanks go out to Ed Unitsky for designing the logo and artwork for ProgStock! You can learn more about Ed, and hire him to make beautiful art for your project by visiting his Facebook page and sending him a message.