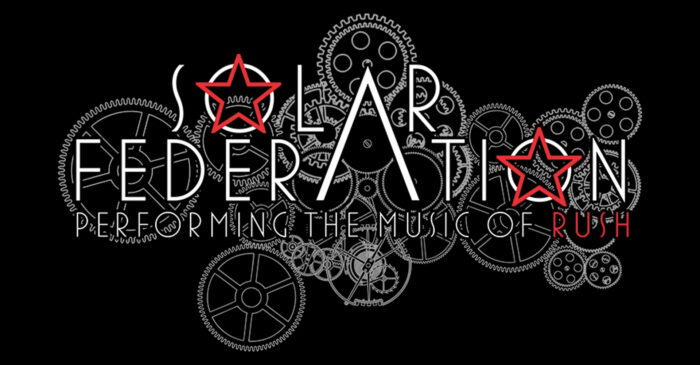 http://solarfederationband.com/
In 2015, the iconic Canadian progressive rock trio Rush celebrated its 40th anniversary with a career-spanning tour that is likely to be the band's last. With interest in the band at an absolute peak, there is a high demand from fans to see and hear this music played live on stage.
Enter Solar Federation.
Hailing from Central PA, Solar Federation performs the music of Rush with passion and precision, tuning into all of the fine details that die-hard fans analyze with every spin of an album. The brainchild of seasoned drummer Ffej Herb, Solar Federation begins with his life-long obsession with Rush. Although the idea of starting a band exclusively dedicated to Rush's music sparked many years ago, it wasn't until he finally met fellow Rush fanatic and guitar virtuoso Eric Wirsing that the idea became a reality. With two of the core members of the band solidified, they set out on the daunting task of finding a "Geddy Lee." This quest resulted in the inevitable splitting of Geddy's role between two equally qualified musicians: local legend Mike Bitts on bass and keys, and the four-octave voice of Berklee-trained Julie Schreiber.
In order to tackle the enormous undertaking of performing Rush's music at a level deemed acceptable to its fans, Solar Federation spent an entire year honing its initial set list and rehearsing what is often called the most complex and difficult catalog of songs to perform in all of rock music. After only a handful of live performances, the band quickly established itself as the premier female-fronted Rush tribute band on the East Coast, garnering praise from fans for its accurate interpretation of the material, meticulous attention to detail, and vocalist Julie Schreiber's passionate delivery of Rush's dynamic melodies and thought-provoking lyrics.
"You can't fake it with this band," said Herb. "Rush fans are incredibly loyal and know the music inside and out. We didn't even post a teaser video on the Internet until just before our first show."
And fans are definitely starting to take notice. Chatter on Clockwork Angels, the leading Rush fan page on Facebook, and other related sites has been overwhelmingly positive. The band also captured the attention of RushCon, the largest North American gathering of Rush fans, and in August 2016 appeared as its "Tribute Band of the Month" at RushCon.org. Members of the band have also appeared on Digital Men, the premier podcast dedicated to all things Rush.
Rush has long been recognized for its legions of devoted fans from all corners of the world. "I was floored to learn that people travel from all over the Mid-Atlantic region to attend our shows," said Herb. "To me, that not only speaks volumes about the loyalty of Rush fans, but it's also a testament to the quality of our band."
Band Lineup
Mike Bitts – bass, keyboards, backing vocals
Ffej Herb – drums, cymbals, percussion
Julie Schreiber – lead vocals
Eric Wirsing – lead guitar, backing vocals
http://solarfederationband.com/shop/
https://www.instagram.com/solar_federation_band/
https://www.youtube.com/channel/UCLK56pJgmvwSTEjUMbV0Xmg
https://www.facebook.com/solarfederationrush