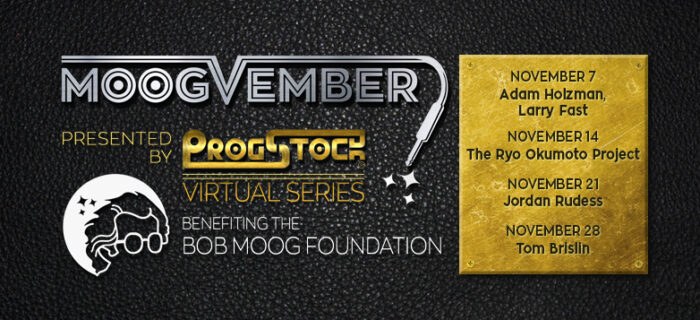 ProgStock Festival and The Bob Moog Foundation are proudly joining forces to bring you Moogvember, featuring an incredibly talented array of artists appearing live every Saturday evening this November as part of the ProgStock Presents Virtual Series.
Click here to purchase tickets for the shows.
During Moogvember, a portion of the proceeds from each show will be donated to The Bob Moog Foundation to benefit their educational and archive preservation efforts, including the new Moogseum, which was closed for five months due to the pandemic.
Moogvember begins on Saturday, November 7, with Adam Holzman, an alumnus of the Miles Davis band who currently plays with Steven Wilson,  a career-spanning retrospective featuring Larry Fast of Synergy, Nektar, Peter Gabriel, and Tony Levin Band fame, led by Erik Norlander of Rocket Scientists and Tom Palmieri of ProgStock and featuring some fantastic special guests, and Paul Whitehead, the Official Fine Artist of ProgStock, whose works adorn many progressive-rock album covers, painting a new work of art during a playback of Giants, the latest album featuring his cover art by Days Between Stations.
Saturday, November 14 brings the raw, uncoiled, progressive-rock power of The Ryo Okumoto Project, led by Spock's Beard keyboardist Ryo Okumoto and featuring the all-star lineup of Matt Dorsey, Jonathan Mover, Erik Madsen, and Keiko Okumoto. Also that evening, you can see Rachel Flowers, the phenomenal multi-instrumentalist and composer, and ProgStock audience favorite, appearing for the first of two unique performances this month, Chris Clark of Brand X, another alumnus of ProgStock, and recently a touring member of the Virgil Donati Band, André Cholmondeley of the Frank Zappa tribute band Project/Object, and tour manager and guitar tech to the stars, and Robert Schindler, the "patron saint" of ProgStock and the musical genius known as Robeone.
Saturday, November 21 is framed by two unique performances by Jordan Rudess, best known as the keyboardist of the platinum-selling, Grammy-nominated band, Dream Theater. And appearing between those two performances, we have Herd of Instinct, a hybrid progressive-rock/post-rock band that blends complex melodic moments and atmospheric soundscapes and Klauss, an Argentinian band that uses many types of synthesis to create dreamlike environments and symphonic textures in a space open to experimentation and improvisation.
Moogvember concludes on Saturday, November 28 with two unique performances by Tom Brislin, renowned solo artist, leader of the band Spiraling, member of The Sea Within, and past touring keyboardist for Yes, Renaissance, and Camel who is now the keyboardist and backing vocalist of the legendary Kansas and co-writer of their recent release The Absence of Presence. Appearing between those two performances, we have Rachel Flowers returning for a second, unique performance, and Ad Astra, an instrumental progressive-rock,  fusion band with a clear focus on melody and arrangement, over a bed of complex rhythm and harmony.
Learn more about Moogvember on The Bob Moog Foundation website!
Moogvember is going to be amazing! See you in the chat rooms!