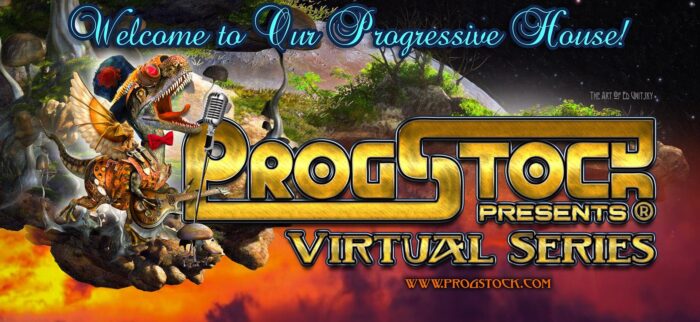 ProgStock Festival, the American Northeast's Only International Progressive Rock Festival, is proud to bring you the ProgStock Presents Virtual Series.
The pandemic has closed music venues and brought in-person live music performances to a screeching halt. We don't know how long we will have to wait before it will be truly safe to stage a festival, but we will be back! Meanwhile, we will be bringing music right to you with some great shows from artists performing live in their homes or home studios. The series will be presented every Saturday night, 5PM – 10PM US Eastern, starting on August 1, 2020, followed by Gagliarchives Radio Philadelphia on the HOUSE of PROG – Music Page. Some Saturdays we will start one hour early at 4PM to accommodate artists live streaming from Europe.
The individual performances on StageIt are separate shows. Audience members will purchase a ticket to each performance individually, not the whole night as a block. Some shows will be 45 minutes and others will be 90, so we may have as few as 3 shows or as many as 6 on each Saturday night.
StageIt is all about experiencing music in the moment, duplicating the live music experience as closely as possible. You have to be there to see it, just like you would in a venue, so shows are only available on their site during the performance window. Some of our artists may choose to capture their shows and make them available later on some other service (YouTube, Facebook) and we (ProgStock) may even capture some of the shows, with artist permission, of course, but the shows will not be available on StageIt outside the show window.
Current Confirmed Shows for August
Saturday, August 1:
5PM: Peter Jones of Tiger Moth Tales (45 minutes)
6PM: Julie Slick – Bassfest (90 minutes)
8PM: Rachel Flowers (90 minutes)
Saturday, August 8:
4PM: Markus Reuter of Stick Men (45 minutes)
5PM: Jean Pageau of Mystery (45 minutes)
6PM: Jimmy Keegan of Pattern-Seeking Animals (45 minutes)
7PM: Paul Bielatowicz of Carl Palmer Band (45 minutes)
8PM: Dennis Atlas of Initiator and Arch Allies (90 minutes)
Saturday, August 15:
5PM: Frogbelly and Symphony (45 minutes)
Frogbelly and Symphony has been postponed to September 12 at 6PM
6PM: Gabriel Agudo (45 minutes)
7PM: André Cholmondeley of Project/Object (45 minutes)
8PM: Bob Richardson of Cell15 (90 minutes)
Saturday, August 22:
4PM: IO Earth Acoustic (45 minutes) – NEW!
5PM: The Holzman/Getter Collective (45 minutes)
6PM: Beledo (45 minutes)
7PM: Mile Marker Zero (45 minutes)
8PM: McNally Waters (90 minutes)
Saturday, August 29:
5PM: Melanie Mau and Martin Schnella (90 minutes)
7PM: Potter's Daughter (45 minutes)
8PM: Aaron English (45 minutes) – NEW!
9PM: Robeone (Robert Schindler) for The Bob Moog Foundation (45 minutes) – NEW!
Details for StageIt:
Shows will be presented on StageIt. To participate, you must have a StageIt account. If you don't yet have an account, here's what to do:
Go to stageit.com (on a laptop or desktop, the site is not mobile-friendly for opening accounts, purchasing Notes/tickets, but works on mobile for viewing)
Click Sign Up (upper right corner)
Create a username and password
Click "Buy Notes" (10 notes = $1) – The StageIt system sells Notes in minimum intervals of $5 (50 Notes).
After choosing how many Notes you want to purchase, choose your payment type – it'll be credit card or PayPal (with PayPal, you do not need to have an account, you can use a credit/debit card as a guest).
Go to the direct ticket link for ProgStock Presents and purchase tickets to the shows you want to watch.
You will also be able to tip the artists before, during and after the shows with Notes. Consider loading up your account now, so you can have some fun with tipping while supporting your favorite artists. Tips show up on the screen as colored bars and many artists view them as the alternative to applause!
Pricing: 45-minute shows will have a minimum ticket price of $2.50 (25 Notes) and 90-minutes shows will have a minimum ticket price of $5.00 (50 Notes), with prices in US Dollars. You can pay more, if you have the means, and you will also be able to tip during the show with your StageIt Notes. We encourage you to support the artists at this difficult time.
We want to thank Ed Unitsky Official for our beautiful artwork, Austin Kokel for providing us with awesome radio spots and Marty Dorfman and Rob Rutz of The Waiting Room with The Prog Doctor on The House of Prog, Rick Henry, Mary Pat Henry, Steve Swayne of House of Prog Radio, Phil Merkel of Captain Phil's Planet on WUSB, Tom Gagliardi of Gagliarchives Radio Philadelphia, Mark Monforti of Progrock.com, Alan Baillargeon of NewEARS Prog Show, Alex Cruzeta of Deep Nuggets Radio, Rick Dashiell of Delicious Agony Progressive Rock Radio, Peter Jones and Cliff Pearson of Progzilla Radio, Nick Katona and Melodic Revolution Records and Melodic Revolution Radio and the fabulous Anne Leighton for your continued support and promotion of ProgStock Festival! THANK YOU!