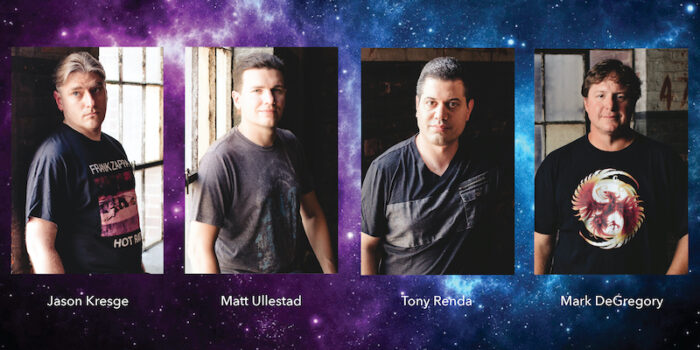 Orpheus Nine is delighted to return to ProgStock! The New Jersey quartet previously opened 2018's event with an "electrifying and engaging" set that Proglodytes called the "perfect way to start a prog festival."
O9 evolved from a solo project by keyboardist and lead singer Jason Kresge, who in 2005 teamed up with co-founding drummer Daniel Nydick. The current lineup is a full decade strong and features Kresge, guitarist Matt Ullestad, bassist Tony Renda, and drummer Mark DeGregory.
2017 welcomed the band's debut album, Transcendental Circus. "Symphonic American progressive rock rarely sounds as good as this," wrote Kev Rowland, author of The Progressive Underground. PROG Magazine's Dom Lawson agreed, declaring that "Orpheus Nine are among the best bands ploughing this ageless furrow."
Transcendental Circus graced the top 20 on ProgArchives.com and earned an Independent Prog Award (IPA) nomination from Friday Night Progressive. Its centerpiece, the nearly-22-minute title suite, was played live in its entirety for the first time at ProgStock 2018.
Jason, Matt, Tony, and Mark are hard at work on their ambitious follow-up: an epic concept album to be released in two acts. Prepare to hear much of Act 1 at ProgStock 2022!
Band Lineup
Jason Kresge – keyboards, lead vocals
Matt Ullestad – guitars
Tony Renda – bass, backing vocals
Mark DeGregory – drums, percussion, backing vocals
Links
Official Website: http://www.orpheusnine.com/
Album Website: http://www.transcendentalcircus.com/
Bandcamp: https://orpheusnine.bandcamp.com/
YouTube: https://www.youtube.com/orpheusnine
Amazon: https://www.amazon.com/Transcendental-Circus-Explicit-Orpheus-Nine/dp/B0762N5WRY
Facebook: https://www.facebook.com/OrpheusNine
Instagram: www.instagram.com/orpheusnineofficial
Twitter: https://twitter.com/orpheusnine