Beledo & His Friends, featuring Pete Levin, Lincoln Goines, and Kenny Grohowski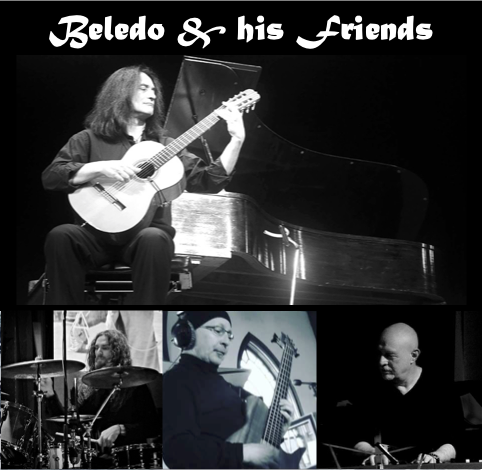 Beledo
New York guitarist, pianist, and composer, Beledo was born in Montevideo, Uruguay. He began formal music and piano study at age six. As the British Invasion began to take hold of airwaves around the world, influenced by the Beatles and other emerging pop rock bands, he gravitated towards and discovered a natural proficiency for guitar.
Versed in classical theory, composition and technique, adept in the traditional styles of his birthplace, drawing inspiration from vast and diverse modern musical forms, Beledo has earned his place among the most sophisticated, versatile, and gifted artists of our time.
Beledo gained guitar-hero status in his teens, playing every theatre in his hometown of Montevideo, and captivating audiences in Uruguay and Argentina.
Band Lineup
Beledo – guitars, piano
Lincoln Goines – bass
Pete Levin – keyboards
Kenny Grohowski – drums
Beledo Links
Website: https://beledo.com/
Bandcamp: https://beledo-moonjune.bandcamp.com/
Facebook: https://www.facebook.com/beledomain
YouTube: https://www.youtube.com/channel/UCCBxgbIJitvLRAgSC42pwYg
Instagram: https://www.instagram.com/belebeledo/